Hotel Forsthaus Nürnberg Fürth
Hotel Forsthaus Nürnberg Fürth
The 4-star Hotel Forsthaus Nürnberg Fürth has 7 modern and individual event rooms on the 1st and 4th floors.
Whether for meetings, seminars or meetings lasting several days – our flexible rooms can be adapted to your wishes.
From 45 square meters to 322 square meters the premises of the forester's lodge offer place for up to 300 guests.
Our special highlight: Plan your event in the historical "Max-Grundig-Bibliothek" and let yourself be inspired by the innovative spirit of past days in a special flair.
The event team of the Hotel Forsthaus will be happy to advise you.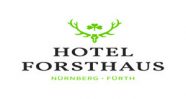 90768 Fürth
Zum Vogelsang 20
Telefon: +49 911 63 32 770
Telefax: +49 911 97900801
Email: info@dein-forsthaus.de
* For any price fluctuations [+ -] of the room rates we can not guarantee. The daily updated prices are available directly at the hotel.