Hotel Kriemhild am Hirschgarten
Welcome to the 3 star Hotel Kriemhild in Munich.
Hotel Kriemhild am Hirschgarten München-Nymphenburg
Your Hotel in Munich-Nymphenburg
Near the Nymphenburg Palace (birthplace of King Ludwig II) and the "Royal Hirschgarten" (the largest beer garden in Munich), our award-winning hotel is located in a quiet side street, amidst the exclusive residential area Nymphenburg-Neuhausen.
Our family-run hotel offers you comfortable single rooms, large double rooms and 4 suites with separate side rooms and exclusive amenities incl. Air conditioning. Overall, our house has 21 rooms and 40 beds. All rooms are equipped with shower / bath, cable TV, telephone and minibar. Among the amenities the hotel offers a lift, an air-conditioned breakfast room, a free internet terminal and Wi-Fi throughout. We also offer our guests traveling with their own car to Munich, free parking right outside the hotel. An environmental badge you do not need in Munich-Nymphenburg.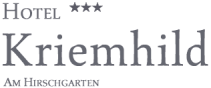 80639 München
Guntherstr. 16
Telefon: +49 89 1711170
Telefax: +49 89 17111755
Email: hotel@kriemhild.de
* For any price fluctuations [+ -] of the room rates we can not guarantee. The daily updated prices are available directly at the hotel.