Meeting persons up to 130 persons
Meeting Package bis 130 Personen
Price Hotel Room ab 36,00 euro
Conference House Conference House Maria Hilf Monastery in Bühl

Experience our conference rooms as an ideal conference venue characterized by exclusivity through simplicity.

In addition to modern equipped event rooms in historical walls and inexpensive conference packages, you can expect an experience of cheerful silence away from the normal daily routine.

Generous green spaces create a creative and contemplative ambience and thus the ideal prerequisite for concentrated and efficient work.

Use active and meditative short programmes such as bike and mountain bike tours, steep hikes, yoga or retreats for original team activities.

Spend the evenings in a relaxed and convivial atmosphere in the beer garden or in a cosy hermitage.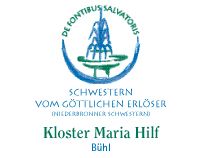 77815 Bühl
Carl-Netter-Strasse 7
Telefon: +49 7223 8020
Telefax: +49 7223 802100
Email: buehl@kloster-erleben.eu
* For possible price fluctuations [+ -] of the room prices we can not guarantee unfortunately. The current prices are available directly from the hotel.